Nature Cure Camps Across India
Under the Guidance of Dr. Arun Sharma, Founder-Director IMANAH (International Institute of Mahayoga & Natural Hygiene), USA.
---
📍Delhi
Experience :
Natural Therapies: Hydrotherapy, Solar Therapy

Start Healing Lifestyle Diseases: Diabetes, BP, Thyroid, Arthritis & more

Relaxing Yoga & Meditation

Healthy, Detoxifying & Healing Meals
Learn:
Nature Cure Basics

Natural Therapies

Nature Cure Lifestyle 

Healthy Plant-Based Cooking for a Disease-Free & Medicine-Free Life.
Personal Consultation with Dr. Arun Sharma | Practical Sessions & Therapies | Lectures
Starts From 11-17 October 2023
---
Location:
 Balaji Nature Cure Wellness  Center, Delhi
<<< BOOK TODAY >>>
For More Details, Call: +91 8448331324 (Vandana), +91 7982014476 (Himani),
+91 8851528503 (Jigyasa)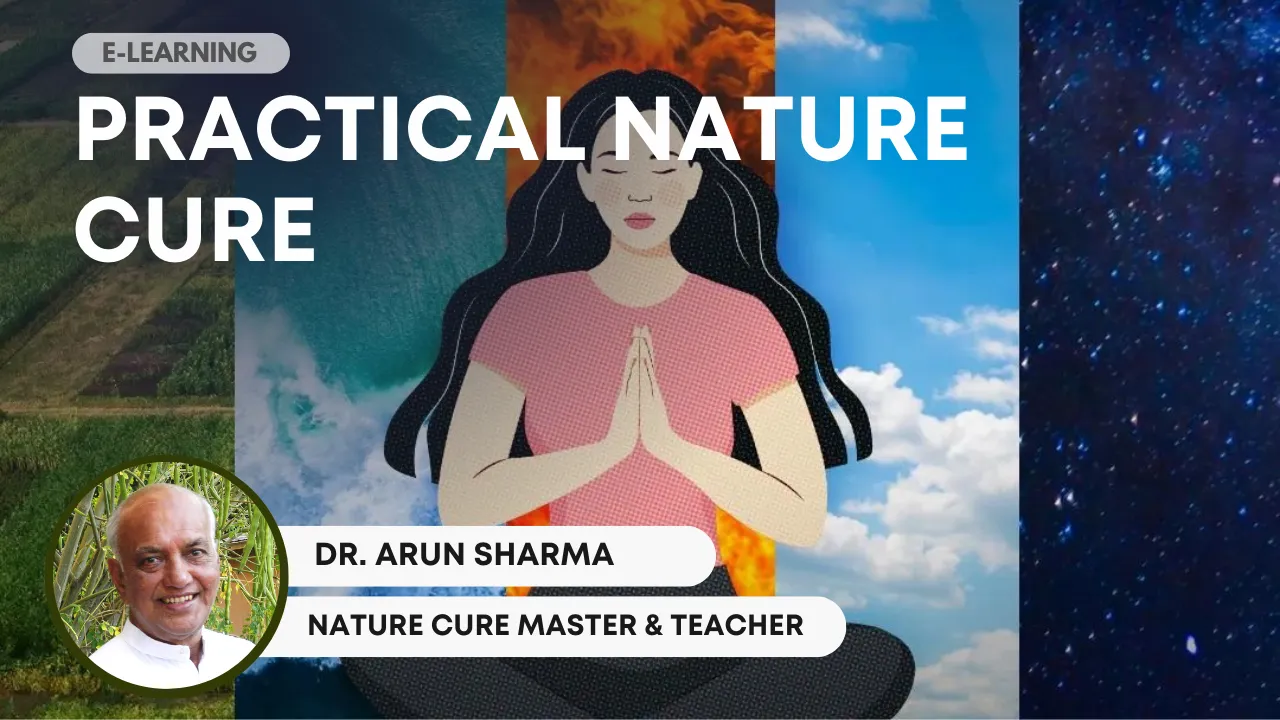 Practical Nature Cure
Discover 'Natural Hygiene' - a system of healthcare based on natural foods & lifestyle practices, follows a 'no medicine approach. Learn the Concepts, Nutrition, Lifestyle & Therapies from the Guru of Natural Hygiene, Dr. Arun Sharma.
INR ₹1990/-
FREE
Know More
SUPER E-BOOKS COMBO | Get 20 Wellcure E-Books
Nourishing Winter Foods | Relieve Stress & Anxiety | Natural Home Care | Aroma Candles | Sugar-Free Sweet Life For Kids | Healthy Indian Cooking | 50 Recipes for Natural Foods | Plant-Based Probiotics Recipes | Green Your Life Healthy | Mango Desserts | Juices & Smoothies | Vegan Mexican | Pies, Tarts & Galette | Salads & Sprouts | Guilt-Free Festive Delights | Lips, Balms & Body Butter | Kids Natural Skin & Haircare | Natural Soaps | Natural Perfumes | Pancake & Waffles
INR 5,000/-
FREE
Know More
Natural Health E-book Combo of 20 books worth Rs. 5,000/-
-------------------
And, 1-month Free Access to:
(1) Practical Nature Cure Course by Dr. Arun Sharma
(2) Mental Wellbeing Through Nature Cure by Dr. Arun Sharma
(3) Science of MahaYoga by Dr. Arun Sharma
MORE QUESTIONS?
---
Please share details we will get in touch with you
For More Details, Please Contact:+91 8448331324, 9630162732
SIGN UP ON WELLCURE & GET A FREE "IMMUNITY BUILDING" & "GREEN YOUR LIFE" E-BOOK FOR FREE!
SIGN UP NOW